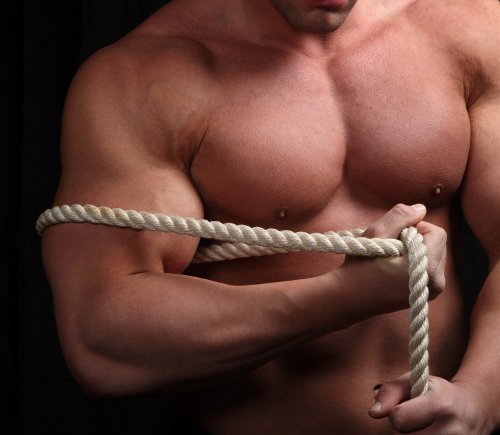 Most people are at least passingly familiar with the concept of bondage – handcuffs, whips and blindfolds are the trio of tropes that typically spring to mind. In reality, properly done bondage is part art form, part therapy – and it can work wonders to combat everyday stress that builds up in the body and mind.
Comforting, Safe and Personal
Bondage is not a one-size-fits-all pursuit. Some individuals like to be lightly restrained, while others enjoy the "sensory deprivation" type of feeling brought by a firmer constraint. Any level of intensity on the bondage spectrum is equally legitimate and a wonderful way to relieve stress and encourage a feeling of physical and spiritual well-being. A professional bondage provider will discuss your needs as well as special words, gestures, or clear methods of communication (often called "Safe Words") that give you complete control over when a session stops or ends. They will also discuss any needs, fears or concerns before the session so you can shed your stress without worrying.
A Soulful Expression
Bondage and some forms of percussive play, such as flogging and spanking, work on a physiological healing level as much as a mental one. As your skin responds to certain tactile stimulation, blood rises to under the surface of the skin, allowing it to move more quickly through your body to help filter certain toxins and reduce overall tension. The meditative-like state some bondage recipients experience – often called "subspace" – is described as renewing and awakening, allowing those that experience it to tackle life's challenges with more energy after the session has ended.
The Benefits of Professional Bondage
For beginners and those curious about bondage, booking a session with a bondage professional is an excellent way to get your proverbial feet wet. A professional has knowledge of the body and is attuned to your desires and concerns from an in-depth assessment given prior to the session. If you don't like something or would like more of a certain activity, the client-provider relationship offers an excellent communication flow that a non-profession or personal session might not. The tools that your provider uses are all well maintained and cleaned after each session, and are often more exotic and elaborate than the offerings found in a typical bondage beginner's kit. Your session not only gives you a delightful overall experience, but the added enjoyment of toys such as "vampire" gloves and rabbit mitts that you might not otherwise get to interact with.
If the thought of leather cuffs and the dreamy, sensual experience of truly "letting go" piques your interest, you don't need to longingly pine after BDSM books and videos. Treat yourself to a decadent experience that's as satisfying for the mind and soul as it is for the body and schedule a bondage session with a professional. Once you've been secured in cuffs and collar and treated to the wonderfully wicked sensation of exotic tools in skilled hands, you'll wonder why you didn't try it sooner!