Happy silly season, folks.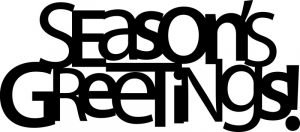 It's the holiday month again, and 2020 is right around the corner! Seems to rush by a bit faster each time around. And each year around this time, I find myself reflecting on the past year and considering the journey ahead.
What kind of year has it been for you? What have you accomplished? How have you grown and changed? What have you explored and learned about yourself? We all shift subtly from one moment to the next, so it's a blessing to take time out and look at where we are and where we want to go.
The past year has been pretty non-stop for me. Plenty of high notes, some intense contemplation, and some challenging points in there as well. Which is all to the good. I find that I grow most when I'm at least a little bit challenged. So I invite you to look back on the past year and see the gifts that it has brought you, whatever face those gifts might present in the moment.
What really stands out for me is how lucky I feel to be able to do this work.  To connect with people in person, to share the gift of touch and help those I meet to explore themselves, to feel their edge and get to know their bodies.  Sexuality is such a core aspect of the human experience.  Bondassage and tantra work helps us to get into the body and really feel it, to listen to our energy and learn to follow its guidance.  It warms my heart to think of those who walk through my door and trust me to help them explore these deep and intimate parts of themselves.
For me, and for many of the people I've spoken to, this year seems to be about planting the seeds for some major shifts. Changes in how we see ourselves and our needs, changes in how we approach the world from one day to the next. And I feel that next year is about bringing these inner shifts out into the light. The seed busting through the crust and taking off.
On a business level, I'm seeing that it's time to step up!  I've been working in the tantra field for more than ten years now, meeting clients, expanding my repertoire, and deepening my knowledge.  I haven't raised my rates in all this time, but that's about to change!  2020 will bring in a new phase of abundance and self-valuing, so you can expect to see the price shift on my website by the end of the month.  The good thing is, if you want to lock in a session at my current rate, you still have some time.  If you contact me before the end of the month, I'll lock you in at the going price.  It'll be a little holiday gift to help you start the new year on the right foot.
That's it for my news at the moment. Wishing you all a beautiful holiday, and, if you're celebrating, be jolly, be safe, and have the best time ever!
In light and love,
Taranga