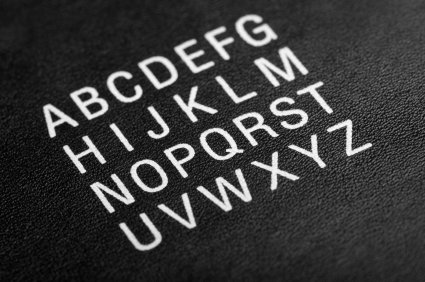 Introducing everything you ever wanted to know (but were too scared to ask) about the world of BDSM — along with some practises you've probably never even heard of before!
A is for Animal Play. This isn't about bestiality — it's actually the act of dressing up or acting like an animal, such as a dog, cat or horse.
B is for Butt Plug. This is a device similar to a dildo, only it has a flat base, making it ideal for insertion into the anus.
C is for CBT, or cock & ball torture. It might bring tears to your eyes just thinking about it, but for some, CBT can be highly arousing. Practises can range from tickle torture to flogging, electro-stimulation, squeezing, smacking, punching and even kicking.
D is for Dom — a word that describes the person on top or in control in a bondage scenario (a 'sub' is the person in the submissive role).
E is for Endorphin Rush. Endorphins are the chemical 'highs' people often report experiencing during some of bondage's more intense practices.
F is for Figging. It sounds bizarre, but figging involves the practice of inserting a piece of ginger root into the anus or vagina to create a burning sensation — which some people actually enjoy! Go figure.
G is for Gunplay. Yes, there's actually a scene that uses simulated (or even real) guns as part of a bondage fantasy. Seems there's no limit to some people's kinks!
H is for Humbler. This is a testicle cuff device that clamps around the scrotum to restrict a sub's movement.
I is for Infantilism. This is a kind of role-play fetish, often involving men dressing as babies in nappies, while a Dom plays the role of parent.
K is for Kink. Bondage incorporates all kinds of kink practices. From medical role-playing to watersports, wax play to erotic electro-stimulation, there's a kink that caters to every imaginable fetish.
L is for Limits. We all have them, and in bondage, it's ok to say enough's enough — which is usually done via a safe-word.
M is for Mummification. In this practice, a sub is bound and gagged, either using bandages or duct tape. Find yourself an experienced practitioner if you want to try out this one!
N is for Nyotaimori. This is a scenario where a person is decorated as a human sushi platter for a party to eat sushi rolls and sashimi from.
O is for Outfit. From skin-tight leather, rubber and PVC outfits to fluffy animal costumes, the only limit is the imagination.
P is for Paraphilia. This describes intense sexual arousal to unusual objects, situations or people. Bizarrely, one woman recently actually got married to the Eiffel Tower!
Q is for Queer, an umbrella term for sexual and gender minorities that are not heterosexual, hetero-normative or gender-binary.
R is for Riding Crop — one of the favoured tools of the bondage trade, a riding crop creates a satisfying crack when applied to a bare behind.
S is for Sadomasochism. This describes more extreme play involving a sadist (who enjoys inflicting pain) and a masochist (who enjoys receiving).
T is for Tickling. At the other end of the spectrum, tickling is at the light and fluffy edge of bondage — though some might still describe it as torture!
V is for Vanilla. Often used mockingly to describe a person or practice outside of the bondage scene.
W is for Wax Play. Here, hot wax is dribbled from a candle onto a sub's body to create intense sensations that some find highly pleasurable.
Y is for Yellow. It's a well-know term describing watersports — but it's also safe-word code for 'this is borderline' (with 'green' meaning 'keep going' and 'red' meaning 'stop!').
Z is for Zipper — a slowly-released zipper can be a hugely erotic sensation for anyone wearing a skin-tight leather, rubber or PVC outfit.