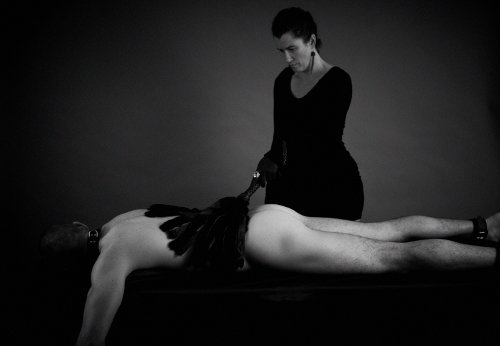 You may not be too familiar with the name, but Bondassage is the latest in indulgent sensation play, and it's set to transform the world of erotic massage. This kinky massage offers a 'taster plate' of unusual sensations, light flogging and simple bondage techniques — and it's often described as the ideal introduction to the bondage scene.
Why Bondassage?
If you're a beginner to the world of S&M, Bondassage is a great place to begin your journey — and If you're looking to safely explore your desires and boundaries, Bondassage is the experience you've been waiting for.
This massage is designed as an introduction to the art of S&M — and while it's not extreme enough to leave any marks or scars, Bondassage promises to take you off the beaten path, on an arousing journey into new territory.
Surrender, explore and be vulnerable
Liberation through constraint is something many of us are curious about. My own Bondassage clients include men, women and couples of all ages — and I believe it's no coincidence that they're often high achievers, who regularly feel the weight of expectation and pressure to perform. Their experience is much-needed time out from those stresses and strains, and an opportunity to surrender, explore, be vulnerable, go deep inside their bodies, and forget their everyday selves for a while.
What happens in a session?
In a Bondassage session, you'll experience both sensory deprivation and sensory overload. First you'll be lightly bound to my comfortable massage table. Next I cover your eyes with a blindfold, and your ears with headphones, playing soft, sensual music. Then we'll begin to explore sensation, as my warm, experienced hands knead, stroke, tickle, spank and more. As part of the experience, you'll also be stimulated with delicious props like fur, feathers, crops and floggers.
During a session, all kinds of feelings and emotions can come up. People often report feeling a rush of endorphins, similar to a 'runner's high', and the experience can take you into what's called a subspace. Here, time slows down and you enter a meditative, trance-like zone. Your mind is stilled and your body feels alive and more responsive than ever before.
Book a Bondassage session with Taranga
If you're a novice to S&M, and interested in having a 50 Shades of Grey experience of your own, why not schedule a Bondassage session with me?