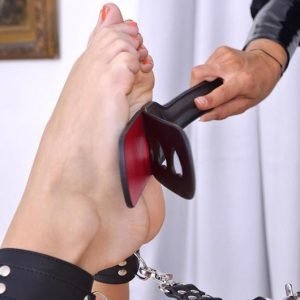 I had a beautiful experience recently. I attended the Sydney Festival of Really Good Sex, and while roaming through the festival, I came across a workshop called Foot Pampering and Foot Fetish by Mynx and Kinta. This definitely caught my attention, as my feet have always been a sensual and erotic spot for me.
The workshop gave me the opportunity to experience bastinado, a form of impact play where the sub's feet are whipped. I offer this service to my clients, but this was the first time that I received a session myself. Experiencing it first-hand brought it to the next level for me. I found that I love to have my feet paddled, and that I could handle quite a bit more pain than I initially thought. More than that, it was exciting, in that tingly, wake up the senses and get the little shivers of delight going sort of way.
The session began with a foot wash and sensual massage, and my partner at the time was delicate and present. I really appreciated this as my feet are very sensitive. I am the dominant in the sessions I offer, so it was delightful to let go and step into the submissive role. I allowed myself to really give up control and be held, and my partner showed me through his attentiveness and gentleness that I was fully held. I loved having someone take me by the feet, worship them. That alone was beautiful.
After the massage, we moved on to the bastinado. My partner began with light strokes, working with a thin paddle. Like with most impact play, there were a number of implements on hand, different sizes of paddles and canes. I thought the cane might be a bit much for me, and it turned out the thin paddle was perfect. With each stroke, I gave my partner permission to go harder, loving the sensation zinging through my body each time the paddle struck. I even loved the sound, a soft "thud" accompanying the bursts of feeling.
The feeling was sensual and deeply personal. It's impossible to really describe it, but I can say it felt amazing. Each touch and strike left me wanting more. About halfway through, Mistress Mynx came and took over the session. She held my toes to keep from paddling them, and brought the intensity up slowly, becoming a bit more forceful with each paddle. I allowed her to go rather hard, which surprised me. In her expert hands, the pain become something truly sensual and deeply exciting. I never realised I would enjoy it so much. Mistress Mynx was pleased as well – she told me that I have very receptive feet.
The whole experience was enlightening and fun. I found that bastinado play doesn't have to equal pain, that it can be light and sensual as well. It can be taken to whatever degree really turns you on. I love exploring new things, and this one was surprisingly delicious. We all have our kinks, and it's amazing when we find one that really gets us going. I've always had a foot fetish, but bastinado took it to another level.
So, that was my first session, but it definitely won't be my last. And I'm even more excited to be sharing this with my clients as well, helping them to explore their kinks and providing new delight.
Happy bastinado, everyone!