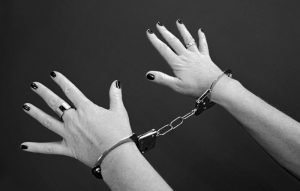 What images come to your mind when you hear BDSM? For most people, the answer is whips and chains, blindfolds and paddles. Those who view it from the outside might assume that BDSM is weird and abusive. This couldn't be further from the truth.
It's about trust
At its core, BDSM is about trust. It's about letting go of control, surrendering to a caring lover, and being held in a space of vulnerability. And the really juicy thing about it is that it can be incredibly exciting and erotic. In letting go completely and trusting a partner, we can move into a space of exhilaration and delicious sensation that is as healing as it is intimate and sensual.
There are many forms of sensory play that fall under the heading of BDSM. We can move into a space of power-play or domination and submission, where one partner surrenders control to the other. We can use spanking or flogging to bring intense sensations into our play, bringing in an element of sadomasochism. Restraints might be introduced, bringing us into the realm of bondage and discipline. All of this can be described as BDSM, and yet each offers its own unique sensation and emotion to the sensual experience.
Just another way to play
Those who have never dipped into the world of kink often feel that BDSM is perverted, that it involves objectifying or dehumanising your partner. If you've experienced it, though, you know that this is one of the most intimate, nurturing, and loving ways that we can relate to one another. In many ways, it can be more intimate than conventional sexuality. The play is arranged in advance with clear, intimate communication, given a container which allows the play to be fulfilling for all involved, and inviting a deep and unique erotic bond. Communication and trust are key elements in BDSM, more so even than in the more "vanilla" forms of intimate and sensual play.
Power play, sensory play, and bondage are far more common than many realise, and those who bring kink into the bedroom are just as healthy and normal as those with a more conventional approach to sex. In fact, studies have shown that those who have brought BDSM into their sexual experiences tend to have a higher sense of self-esteem, a clearer understanding of their needs and desires, and a greater capacity to communicate these desires, both in and out of the bedroom.
Never abusive
BDSM is about surrender, about letting go of control and moving into feeling. Beyond the head, beyond story and judgment, and into a place of sensuality and release. It touches upon the element of power, which is deeply erotic and enticing from many angles. And, though pain might be brought into the play, it's done from a consensual, ethical, and nurturing space rather than one of abuse. When coming from a loving and caring space, bondage, power play, or sensory play can incredibly heighten the excitement of intimacy. Rather than being abusive, the limits are always clearly defined beforehand and carefully controlled. This creates a safe space for our deep, juicy, and naughty desires to be explored.
Safe words
One thing that it's helpful to understand about BDSM is that there is a theatrical element to it. We get to play out scenes and fantasies that have been charged with excitement and desire, exploring them in a healthy and deeply erotic way. This is the reason that safe words are used. Safe words are neutral signals that a sub (submissive) can use to stop the play. They allow fantasies to be played out where the sub begs for the play to stop, secure in the knowledge that it will continue so long as it remains juicy and exciting.
Subs are in charge
Another aspect of BDSM which could be a bit counterintuitive for those viewing it from a distance is that the subs are actually in charge. They arrange clear limits beforehand based on their own personal boundaries and have the capacity to stop the play immediately with the safe word. The observance of these limits is in the nature of a trust, and it forms the foundation of the play. The Dom, or dominant, may act like they are in charge, but their role is to be caring and nurturing, deeply tuned in to the needs and desires of the sub throughout the course of the play. This creates an environment where we can experiment with power and surrender from a safe and healthy space. What's more, playing with power in this way can be intensely erotic and exciting.
Intimacy
One vital element that BDSM really brings to the surface is intimacy. Intimacy is something different from sex. It is clear, authentic, emotional communication. And to be truly intimate, we have to be vulnerable. We can be sexual without being intimate and vice versa. But it's the intimate space that's both truly healing and is the source of healthy arousal. BDSM requires honest, ongoing discussion, before the play begins, throughout it, and afterwards.
Openly expressing our sexual desires and curiosities requires a certain degree of vulnerability that is in itself healing. In being received in this space, we learn to trust, to communicate, to accept both ourselves and the other more fully. These skills deepen our relationships and clear away the barriers that keep us from embracing our sensual nature. And the beautiful thing is that when we move from this space, our quality of life improves on every level, both in the bedroom and in other areas of life.