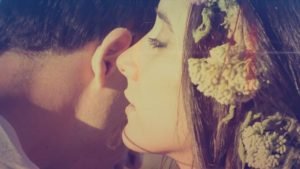 Does your lover know what you really like? What gets you excited or drives you over the edge? Do they know your fantasies and those little sexy thoughts that flit through your mind?
Have you told them?
This can be really challenging for some of us. We have been raised in a culture that sees sex as dirty, and kink as downright taboo. But there's nothing wrong with sex. Just the opposite. It's about the healthiest thing we can share. And kink, despite all the associations that have been attached to it through the years, is just as healthy. It's a reflection of confidence, a solid relationship based on acceptance and dedicated to exploring the excitement and beauty that we can share as lovers.
It might feel awkward, embarrassing, and even uncomfortable to verbalise your desires to your lover. But unless your lover is a telepath, you might need to speak up to let them know what you really like. And once you get past those first awkward moments, it can be an exciting exercise to share with your beloved, a bit of foreplay that brings in the excitement before you ever reach the bedroom. Verbalising your desires spices up the boudoir like nothing else. A few choice words can help your lover to touch you just the way that drives you wild, and even revs the imagination to new and exciting heights. Here are a few pointers to get you started:
1. Start with a little solo practice
Get comfortable hearing your voice in those exciting moments. You can whisper some choice phrases during solo masturbation. Single words are enough to get you started. "Yes" or "Fuck" are beautiful openers, even "Oh" or "God," or your lover's name. Get it going with a whisper, and once you build up your confidence a bit, bring in a little more volume. If you feel it, bring it up to a shout, raise the roof, and love the sound of your voice. Being vocal will turn your partner on like you wouldn't believe, so just think of that if you feel a bit shy in the beginning.
2. Write it down
Let's face it—sometimes we're a bit too preoccupied to be really creative when the moment hits. It helps to take a bit of time beforehand to write some sexy or exciting ideas down. Some choice words that you'd love to hear, or that you've been wanting to say. A little thought in advance can help you to carefully craft the words, phrases or sentences you'll want to scream when the time is right. Read them aloud and have a little practice, so that they'll be on the tip of your tongue in the sexy moments ahead.
3. Get creative
Ok, we all know how to have sex. But has a little homework ever hurt anyone? You never know what you might discover. From phrases that delight, excite, amuse, and entertain, to things you never thought you might want to try out. If you want a bit of help with the talk itself, have a look at DirtySlang.com. But it can be just as exciting to be open and confident verbalising what you really want in the moment. Explore. Research what you might like to experience. You may surprise your lover with your forwardness, but you're certain not to disappoint. And you might be surprised yourself with how much excitement it adds to the experience.
4. Describe it
Speak up. Let your lover know how it feels when they touch you, when your blood is rushing and the pleasure mounts. Even saying, "That feels great!" or, "You're making me so hot!" can rev the engines and let your lover know how much you enjoy their intimate attention.
Take it forward from there, guiding your lover with words that tell them what you like and what you want in the moment. "Yes, keep licking!" "Don't stop—you're going to make me come!" Just by saying (or shouting) what you want, you can bring sex to new heights.
Once you feel comfortable with the subtle guidance, start demanding what you want. This is even more exciting, for both parties. "Fuck me harder!" "Take me from behind!" You can get the blood boiling for both of you, just by saying it like it is. Get creative. Let go of your inhibitions and let your imagination do the talking. This can lead into some of the steamiest, most explosive moments you've ever experienced, taking you into the sexcapades of your life.
5. Share your sexy thoughts with your lover
Have you ever had an open conversation with your lover about the things that excite you? About those little fantasies that get you hot and ready? This can be really awkward territory at first, but take a chance. Sharing these little vulnerable thoughts with your lover can lead to some steamy moments all in itself. You may find that your lover is open to things that you wouldn't expect. This is enough to turn both of you on and get you ready for the next time you can share an intimate moment (or an intimate hour or two, more like). Be open. Tell them what really gets your body humming, what brings your blood to a boil and pushes you over the edge. Not only will this bring new excitement into the bedroom, it can deepen love and acceptance between you in ways you wouldn't expect. But don't take my word for it! Share a little fantasy, and see how it feels. And watch what happens when you do.