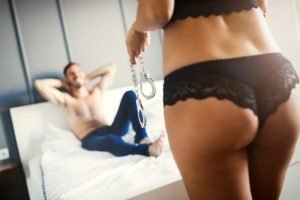 So, we've touched upon this before, but it deserves a little reminder. Have you ever imagined being tied up while your lover teases you to the very edge of ecstasy and beyond? Thought of a delightfully firm smack on the ass between sexy stimulation? Maybe you'd like to be on the giving end, tying your lover and edging them until they can't think straight. A little bit of bondage, a blindfold, some sensory play. Maybe you'd like to go even further, indulging forbidden desires that have crept through the very edge of your thoughts, but never been allowed to express themselves?
The thing is, if we're really honest, every single person in the world has these taboo thoughts. They are a part of who we are. Completely natural and, believe it or not, as healthy as can be. We're built to get a little wild, to play the edge and tap into a bit of deliciousness. Or some overwhelming waves of sensation. We all want to go to some delightfully kinky places. It's not a matter of depravity. Just the opposite, really. It's real, and vital, and some of the juiciest play you can let yourself experience.
Letting ourselves explore the taboo is all about acceptance. Instead of denying our desires, we honour them. We own our feelings and our naughty thoughts and bring them into the light. In the process, we create space to explore new territory with our lover. If things have been a bit stale, tapping into your taboo desires can shake things up and bring in a touch of spice. If you've had the most amazing lovemaking you've ever experienced, then stepping up the kink can take things to places you couldn't even imagine.
The truth is that we all want to go there. Suppressing these desires means holding a part of ourselves back. And, the same part that we're holding back is that aspect of ourselves that becomes lost in passion, that abandons itself to the wild throes of intimate connection. Listening to these taboo thoughts means accepting ourselves, maybe on a deeper level than we ever have before. It's a way of tapping in to our full aliveness. And that's priceless.
The beautiful thing about this is that in accepting ourselves, we come to a deeper acceptance of our lover. More than that, we invite more excitement and delight into our relationship. Some taboo talk and play can turn a stagnant relationship into a juicy exploration of boundaries and desire. Some kinky play can turn even the most vanilla of connections into the most amazing sexiness you've ever experienced.
So, what is it that you really want? What secret desires have been hiding behind that veneer of the good little girl or the polite little boy? Isn't it time to let them out?
For the coming holiday season, I encourage you to give yourself the best gift you could ever receive, the depth of sensuality that you have always deserved. Just ask yourself, how much better can it get? And then open the door to find out.
Sensually yours,
Taranga